COLLEGE SCHOLARSHIPS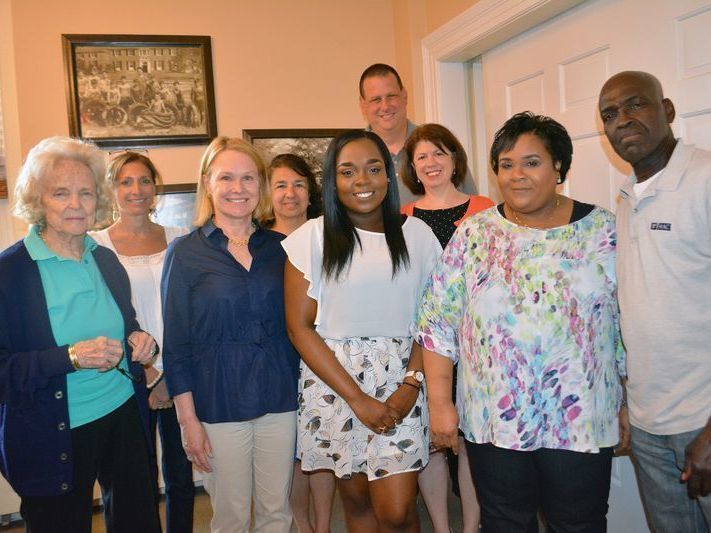 Each year, the Club awards college scholarships to deserving Club members. To receive scholarships, students must complete a rigorous application process, including a formal interview with the scholarship committee. In addition to funding for vocational education, recipients of college scholarships have gone on to a broad range of colleges and universities, including Amherst College, New York University, Norwalk Community College, University of Connecticut, University of Pennsylvania, and Villanova University. Each recipient is required to fulfill volunteer hours at the Club during the summer and school breaks as a requirement for their award.
$1,000,000 Scholarship Gift Announced in 2019

Former Greenwich First Selectman Rebecca Breed, a longtime Club supporter who volunteered in many positions from board member to youth tutor, was honored as the 2019 Champion of Youth Award recipient. The Breed family made a historic $1 million gift to the Club in support of college scholarships for Club graduates. The gift will be distributed over ten years.

College Scholarship Recipients

In 2021, the Club awarded $310,000 to 46 students. Two Club alumni received the prestigious Torch Award, which is given to rising college seniors with a minimum 3.0 GPA who fully represent the Club's values: Michael Rincon who will graduate from University of Rhode Island next year with a degree in accounting, and Alyzah Rumbaoa who will graduate from University of Connecticut with a degree in nursing. Both students were awarded a $10,000 scholarship.

Endowed Scholarships

Marvin B. Berenblum Scholarship
Rebecca S. Breed Scholarship
Carol D. Browne Scholarship
Lillian Butler Davey Scholarship
Sally P. Lawrence Scholarship
Sukie McFadden Scholarship
Don Palmer, Jr. Scholarship
James Starcher Scholarship
Rowena Lee Teagle Scholarship
William Croft Wilson Scholarship
Adalbert von Gontard Scholarship
For more information, email Don Palmer, Vice President of Programs and Youth Development, at dpalmer@bgcg.org or (203) 869-3224 Ext 102.