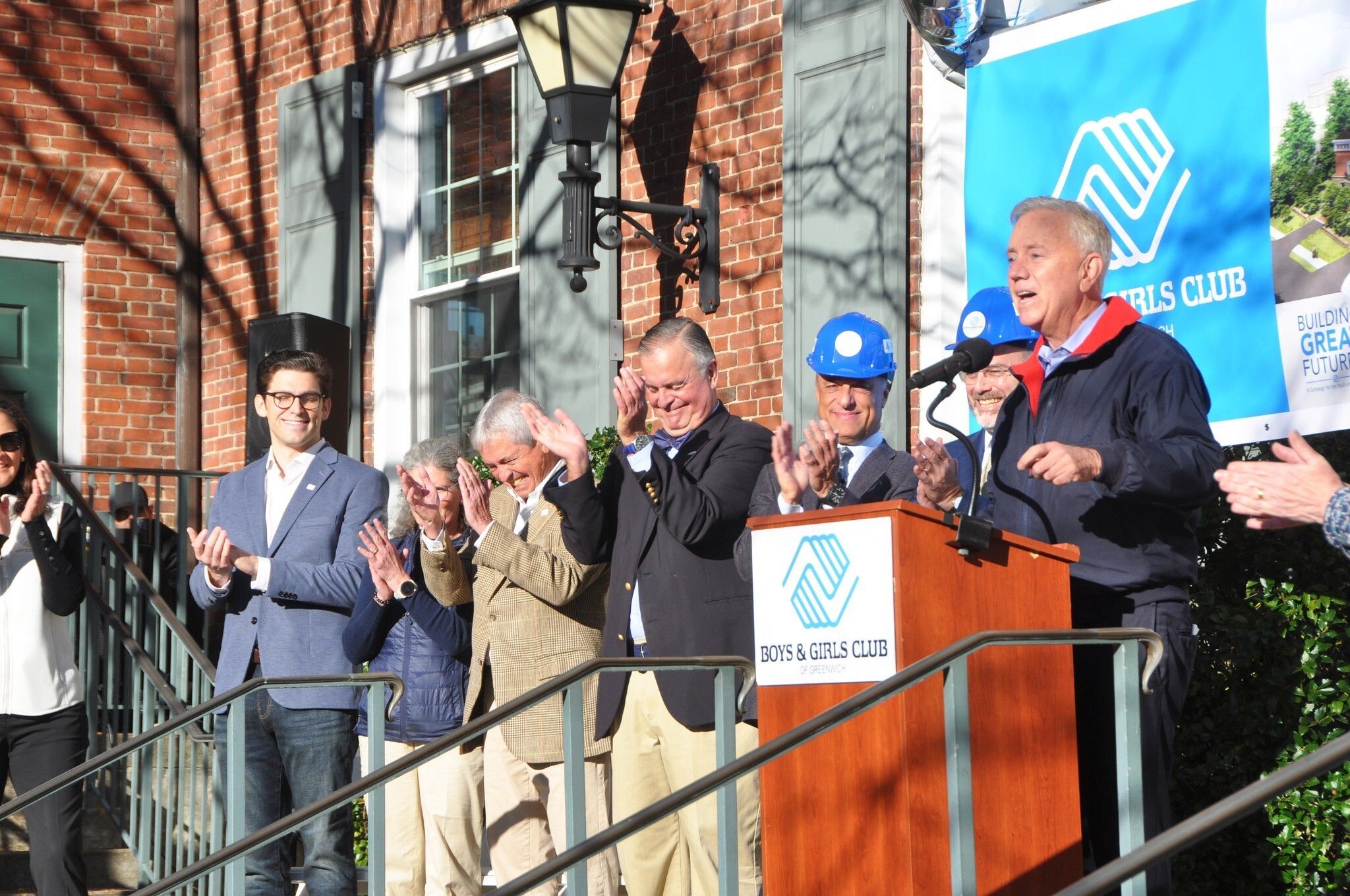 On Monday, October 23, Connecticut Governor Ned Lamont, Greenwich First Selectman Fred Camillo, and the Greenwich delegation joined Cristina Vittoria, Chief Executive Officer of Boys & Girls Club of Greenwich, to break ground on the expansion and renovation of the BGCG Clubhouse located at 4 Horseneck Lane.
"Today we break ground not only on the physical structure but on the promise of endless possibilities, growth, and transformative experiences for the children and young people who call this place their home away from home," said Vittoria. "This marks a significant milestone in our commitment to Building Great Futures for the youth of Greenwich. Renovating and expanding our Club is of paramount importance as it serves as a beacon of hope and opportunity for countless young people in our community."
The Club was able to jump start the construction project thanks to Governor Lamont and Greenwich's state house delegation who were instrumental in helping secure $6.5 million in state bond funding to support this project.
"The Boys & Girls Club has been an indispensable part of the community for many years, and I am pleased we are able to help with funding for expansion and renovations to enhance services. I am looking forward to the work ahead and thank our governor and leadership for prioritizing this item on the agenda," said Steve Meskers, Connecticut State Representative for the 150th District.
Founded in 1910 and built in the 1930s, BGCG's Clubhouse has served thousands of young people in the course of its history. This marks the organization's first major renovation project in nearly 20 years.
The 10,000-square-foot addition and expansion of the Clubhouse includes:
• Enhancing the building's entry, including an elongated drop-off and pick-up area, with a secure vestibule and increased security features throughout the facility
• Installing new turf, secure fencing, and amphitheater-style seating in the field
• Creating a lobby Welcome Center that features a seating area for parents
• Increasing and upgrading space for the Teen Center to include break out rooms for studying and tutoring as well as a College & Workforce Readiness Center to ensure post-high school success
• Building a new gym that features a regulation-size court for basketball, volleyball and other activities
• Updating and converting the old gym for dance/fitness and theater space
• Expanding academic and STEAM instructional space
• Making additional upgrades to the Club's infrastructure, such as plumbing, electrical, HVAC, and information technology systems
"There have been many changes in the 30+ years I've been with the Club, but one thing has remained the same – and that's our strong commitment to the youth of our community," said Don Palmer, Vice President, Programs & Youth Development. "With this renovation, we can remain nimble in our program offerings, bringing robust resources to help our young people achieve academic success, build healthier lifestyles, and further develop as productive members of society."
Current programs are being held at satellite locations while the new Clubhouse is slated to open in early spring 2025.