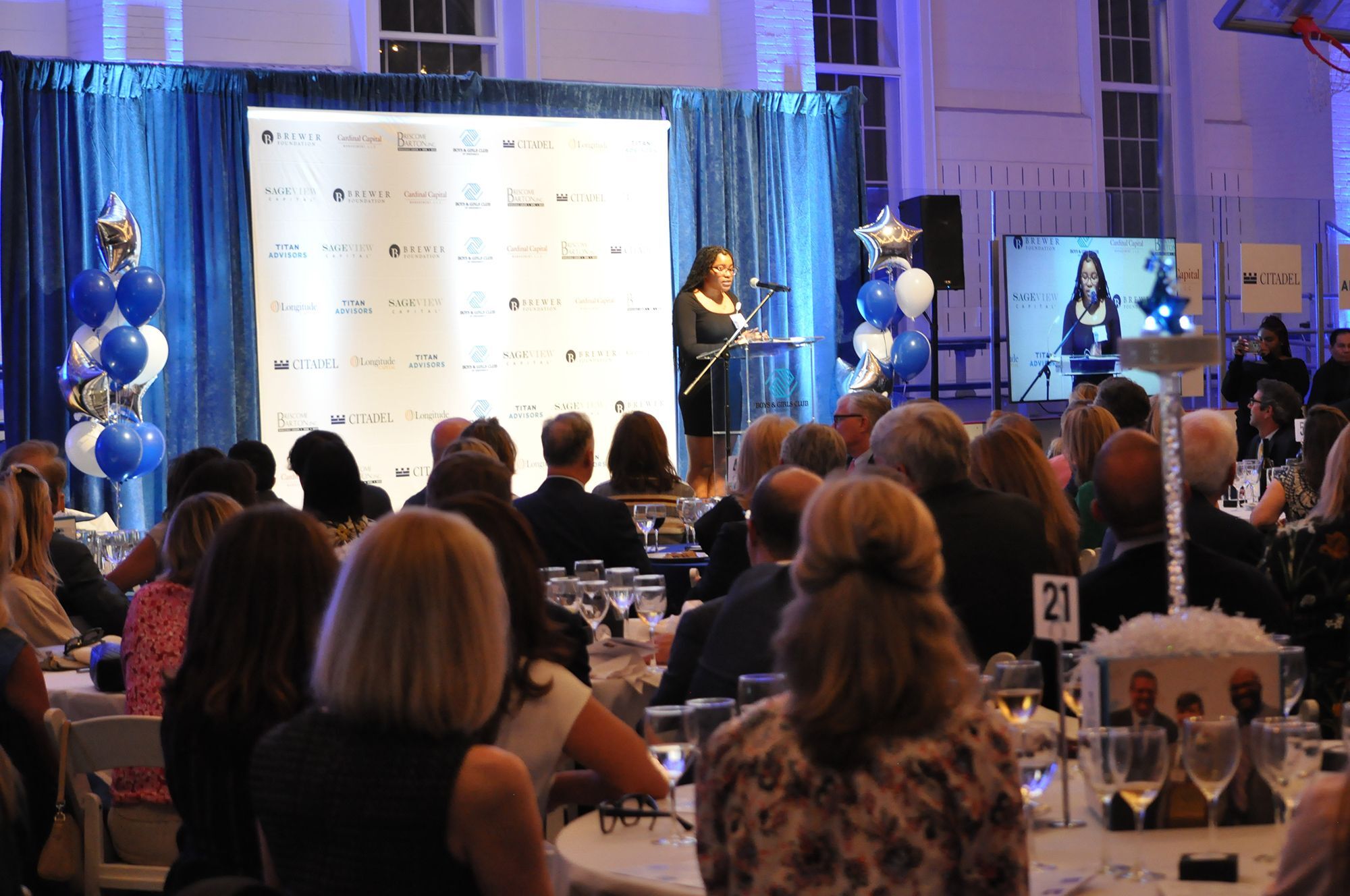 Some of Greenwich's best and brightest were celebrated on Tuesday, April 4, 2023 during the Boys & Girls Club of Greenwich's Annual Youth of the Year celebration.
Jada Brewington, a junior at Greenwich High School, was named the club's 2023 Youth of the Year. Brewington, along with Omar Badr (Greenwich High School junior), Nargis Hussaini (Greenwich Country Day School senior), Jake Phillips (Greenwich High School junior), Dina Quevedo (Greenwich High School senior), and Jesse Sanchez (Greenwich High School senior) were the finalists for the 2023 award.
"Greenwich's Youth of the Year program was established in 1969 to recognize club members who give back to their club and community," according to Cristina Vittoria, Chief Executive Officer of Boys & Girls Club of Greenwich. "Youth of the Year winners have demonstrated service to club, community and family; academic success; strong moral character; life goals; and poise and public speaking ability. Jada is a shining example of these traits."
The Boys & Girls Club has been a part of my life since I was 6 years old, and I can say firsthand that it has been a tremendous influence. The Club has always been there when I needed it most," said Brewington. "I've found refuge in the staff members, I was taught social etiquette and manners through the various programs that will resonate with me through my future years, and the club was also there for me when I was ready for my first job. I can definitely vouch that the Boys and Girls Club is the positive place for kids."
In addition to naming the Youth of the Year winner, Boys & Girls Club of Greenwich also honored Taylor Tejada (Grade 8 at Western Middle School) as the 2023 Jr. Youth of the Year; Alex Flook (Greenwich High School junior) as the inaugural David Ogilvy Award for Character, Kindness and Integrity recipient; and 2023 Champions of Youth, Jannell Bakrow, and Annette Wilson, with 25+ years each of dedication to BGCG.
Jannell Bakrow joined Boys & Girls Club of Greenwich's Board in 1995 with her main initiative to develop revenue generating programs to supplement the programs for the Club members. In addition to serving on the Executive Board, Jannell co-chaired the September Benefit in 1996, 1997, 2003 and 2004, with her favorite event being the Recycled Gift Boutique and Holiday Party which she has been involved in since its inception in 2008.
An active volunteer and board member at numerous non-profits in town, it is Boys & Girls Club of Greenwich which has called to Annette Wilson the most. Annette served on the BGCG Executive Board and wore many hats, including chairing the September Benefit, developing revenue producing programs, acting as the Financial and Development Committee chair, and co-chairing the 2003 Construction committee.
Addressing the crowd, Bakrow remarked, "It has been a true honor to be a part of the BGCG and see firsthand what a difference the Club makes in the lives of so many children. I am in total awe of the dedication, energy and love that the BGCG Staff puts forth every single day. The team is tireless in their commitment to the youth of our community."
Echoing her fellow honoree, Wilson commented, "I have had the privilege to be part of this tremendous organization that fosters character, education in mind and spirit, and deep, meaningful friendships between children and adults alike," said Annette. "It is each child's bright future that inspires me and so many dedicated volunteers to devote our time and energy to ensure this nurturing environment continues to flourish."
Jada Brewington will go on to vie for the Connecticut Youth of the Year title and a $5,000 college scholarship from Boys & Girls Clubs of America.