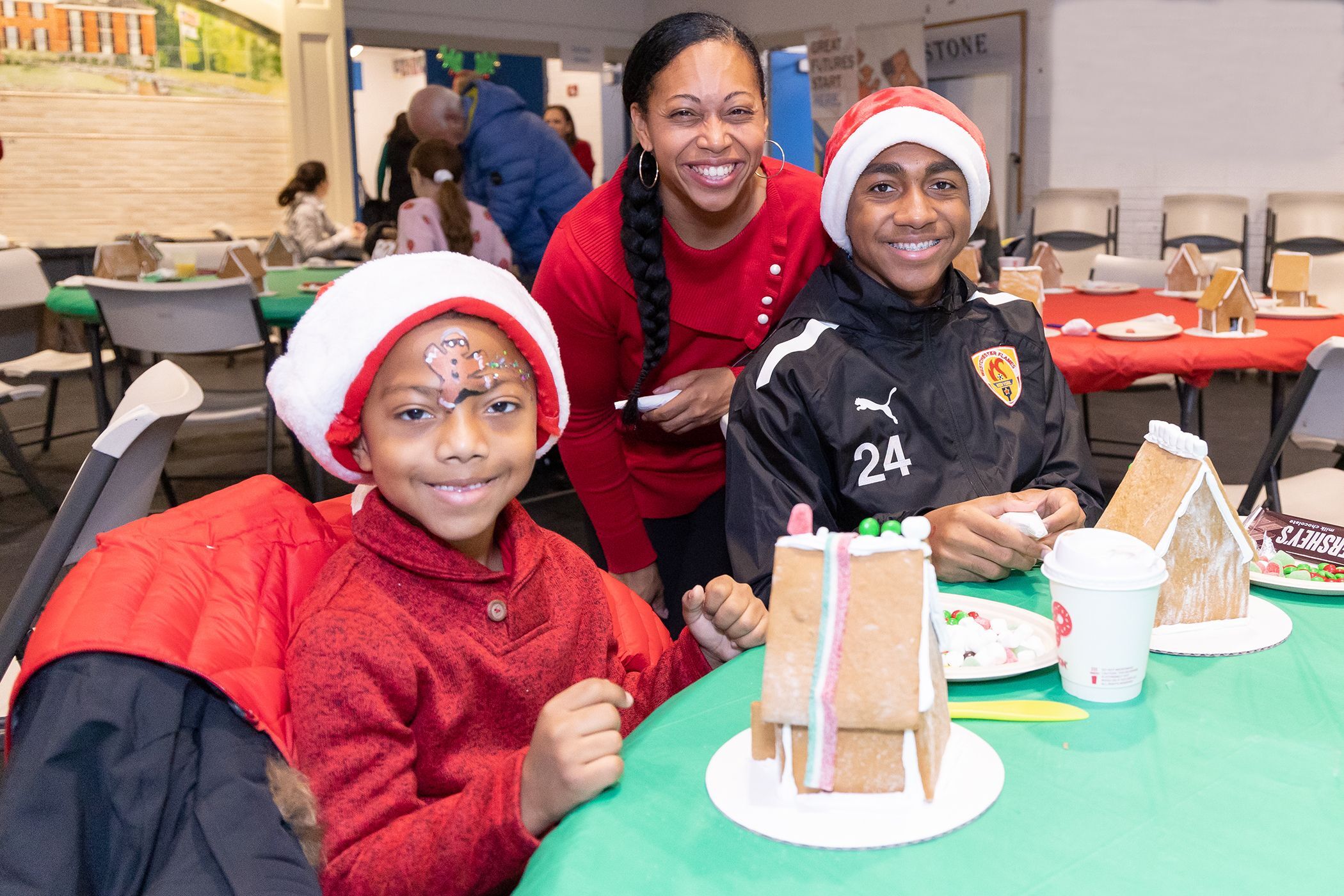 The holidays are a time for family, but having everyone under one roof doesn't necessarily bring loved ones closer. To host a meaningful holiday get-together, every family member must feel included in the fun — which many of us know is not always an easy feat.
How do you engage teenagers who are "too cool" to wear ugly holiday sweaters? Or keep little kids bursting with energy (and sugar from cookies and sweets) entertained at a grown-up party?
With over 160 years of experience in engaging young people in fun after-school activities, Boys & Girls Clubs are here to help! Make your family reunion special with our top family-friendly holiday games and traditions to entertain kids and even bring out the inner child in adults.
1. Holiday Scattergories
Put a festive spin on the scattergories game with holiday themes! To start, create a table with different letters in each column and different seasonal categories in each row — holiday songs, characters in classic holiday puppet movies or winter sports to name a few. Set a time limit for family members to fill in their answers on each list. When time runs out, go around the group and read out the answers each person wrote down per category. For every answer that is not repeated, score a point! The winner racks up the most points at the end of the game.
2. Festive Charades
There are countless printable versions of holiday charades online for players both young and old to enjoy — we even found a Holiday Charades iPhone app! Here's a quick rundown for those who haven't played charades before: First, participants split into two teams. A member from each team draws a holiday-related concept or topic from a hat (or the app) and must act it out without speaking or miming the letters. Whichever team guesses the answer correctly gets a point. The first team to 20 points wins!
3. Holiday Guess Who
You may have played this game before. After all, it's a great icebreaker! In this holiday-themed edition, put names of famous seasonal characters — like The Grinch, Frosty the Snowman, Rudolph the Red-Nosed Reindeer, the Sugarplum Fairy, Tiny Tim or even Buddy the Elf — in a hat. Have each participant draw one name, but don't let them peek at it! Instead, everyone tapes the name they drew to their forehead and asks other guests questions to figure out who they are. Whoever guesses right first wins!
4. Holiday Lights Photo Scavenger Hunt
Get your family out of the house by visiting an area with a ton of holiday lights up (a park, neighborhood, botanical garden, zoo, etc.). Split everyone into two teams and give each one a list of light displays in the vicinity to track down in 20 minutes or less. Team members must then race around the area taking photos with their phones of as many items on their list as they can before heading back to a designated home base. The team with the most photos of holiday lights on their list before time runs out wins!
5. Snowman Building Competition (Indoors or Out)
Take your family's wintertime fun outside with a snowman-building contest. Top prize goes to whoever can design and create the most intricate snowman. If you've got teens at home who need more of a challenge, have them build igloo forts instead. If you live in a warmer climate without a lot of snow, give the prize to the team or person who builds the most creative or authentic-looking snowman out of pillows and other household items.
6. Drive-thru Light Displays
Popularized during the pandemic, drive-thru light installations are a fun, relaxing way for families to enjoy this classic holiday experience from a safe distance. Take your family on an adventure by cruising through a holiday lights park or festively lit route in the neighborhood to admire these dazzling sights from the warmth of your vehicle. Make the ride extra cozy by having the entire family dress in pajamas, sip hot cocoa and listen to holiday tunes in the car.
7. Cookie Pocket
This passive game is perfect for playing in the background of a family holiday gathering. Buy (or bake!) a few platters of cookies in advance. When family members arrive, give each one a cookie and challenge them to sneak it into someone else's pocket without them noticing — sort of a reverse pickpocketing. If someone is caught while trying to pocket their cookie, they must try again on a different family member. Have everyone turn out their pockets at the end of the event, and if someone finds a cookie – or three – in their pocket without noticing how it got there, they must eat it on the spot. Families can also substitute wrapped treats like Hershey's kisses or peppermints to cut down on crumbs.
8. Jingle in the Trunk
Ready to get silly? This activity is sure to get families loosened up and laughing. Start by hot gluing an empty tissue box to an adjustable belt. Repeat the process on a different belt and slip eight jingle bells inside each box. Pick two family members to wear the belts and face off in a competition to see who can shake their hips to bounce the bells out of their box the fastest. Everyone from grandparents to toddlers will have fun showing off their moves!
9. The Nose Knows
Trying to kill time between main activities, like digesting dinner before dessert? Look no further than this clever sensory game for little kids! Round up a handful of foods or items with strong seasonal smells — like an orange, cinnamon stick, pine tree branch or gingerbread cookie. Place each item in its own empty tissue box and have kids use their nose to see if they can sniff out what's inside. Ask kids to describe the scents they're smelling — fruity, nutty, etc. — and name places that remind them of the different aromas — grandma's house, farmers market, etc. This game is less about getting the answers right and more about prompting kids to use critical thinking skills to support their guesses.
10. Marshmallow Jenga
Fact: kids are never bored if there's a bag of marshmallows in the house. While the most popular game is arguably "Fling the Marshmallows at Your Siblings" we suggest another — slightly more civilized — activity known as Marshmallow Jenga. Place a large plate or cutting board on your table, then ask each participant to take turns stacking marshmallows on top of each other. When someone causes the structure to collapse, they're out! This game works best with jumbo-sized marshmallows.
11. Decorate Gingerbread Houses
For those living in households with strict cookie decorating rules, encourage kids to channel their creativity into designing their own gingerbread houses. Buy a gingerbread house making kit and set up various candies and snack foods as building materials — pretzel sticks, gumdrops, icing tubes, etc. Give kids a theme for their house or let them run wild with their own fantastical ideas. It's a win-win for youth to unleash their imaginations and parents to preserve their perfectly iced cookies.
12. Make Your Own Snowflakes
This one's a classic but can also be a great STEM lesson. Teach your kids about the unique and symmetrical nature of snowflakes by making your own six-pointed masterpieces. All you need to start are paper and scissors:
Trim each piece of paper into a square and fold the square into a triangle. (Folding paper into a triangle first makes it easy to trim off the extra part.)
Fold this triangle in half again, and then fold the new triangle into thirds so the edges sides stick up unevenly.
Trim the uneven part off at an angle to create your points, then start cutting out pieces from the sides to make your snowflake design — just don't cut the paper all the way through.
When you and your child are done cutting, unfold carefully to reveal your unique snowflakes!
13. Gift an Ornament Representing a Child's Interests or Wins for the Year
Youth can accomplish so many things in just one year — building STEM or artistic skills, trying a new sport, making new friends. Take the time to celebrate their annual accomplishments by gifting them with an ornament that represents their greatest triumphs within the last year. Did they earn their driver's license? Get cast as the lead in the school musical? Travel to a new country? Commemorate these important life experiences with an ornament they can look back on with nostalgia and pride.
14. Adopt an Angel Tree Child or Senior
Inspire kids and teens to give back during the holidays by fulfilling the wishlist of an angel tree child or senior in their community. This Salvation Army tradition allows families to sponsor a specific child or senior citizen experiencing disadvantages and make their holiday special with personalized gifts. Families can adopt angel tree recipients online or select one from a designated Angel Tree usually found in department stores or malls. Contact your local Salvation Army about how the process works in your area and sign your family up to spread some holiday cheer!
15. Read a Holiday Story or Make One Up Together
Whether it's a classic like "'Twas the Night Before Christmas" or a cultural book celebrating diverse traditions, reading holiday-themed stories is a great way for families to spend thoughtful time together. Browse children's books that explore multicultural holiday traditions to teach kids about how families all over the world celebrate the holidays. Get even more creative by telling your own story together with the six-word-story game. It starts with one person setting the scene by saying "Once upon a time there was..." and then completing the sentence with a maximum of six words. Family members then go around in a circle, each contributing six words to the collective story. The story ends after everyone has gone twice. Pepper(mint) in festive themes by adding details like gift giving, snowmen or Santa Claus.
We hope these family holiday games brighten your season and inspire lots of laughs and fond memories — and even a little learning! Happy holidays from our Boys & Girls Club family to yours.