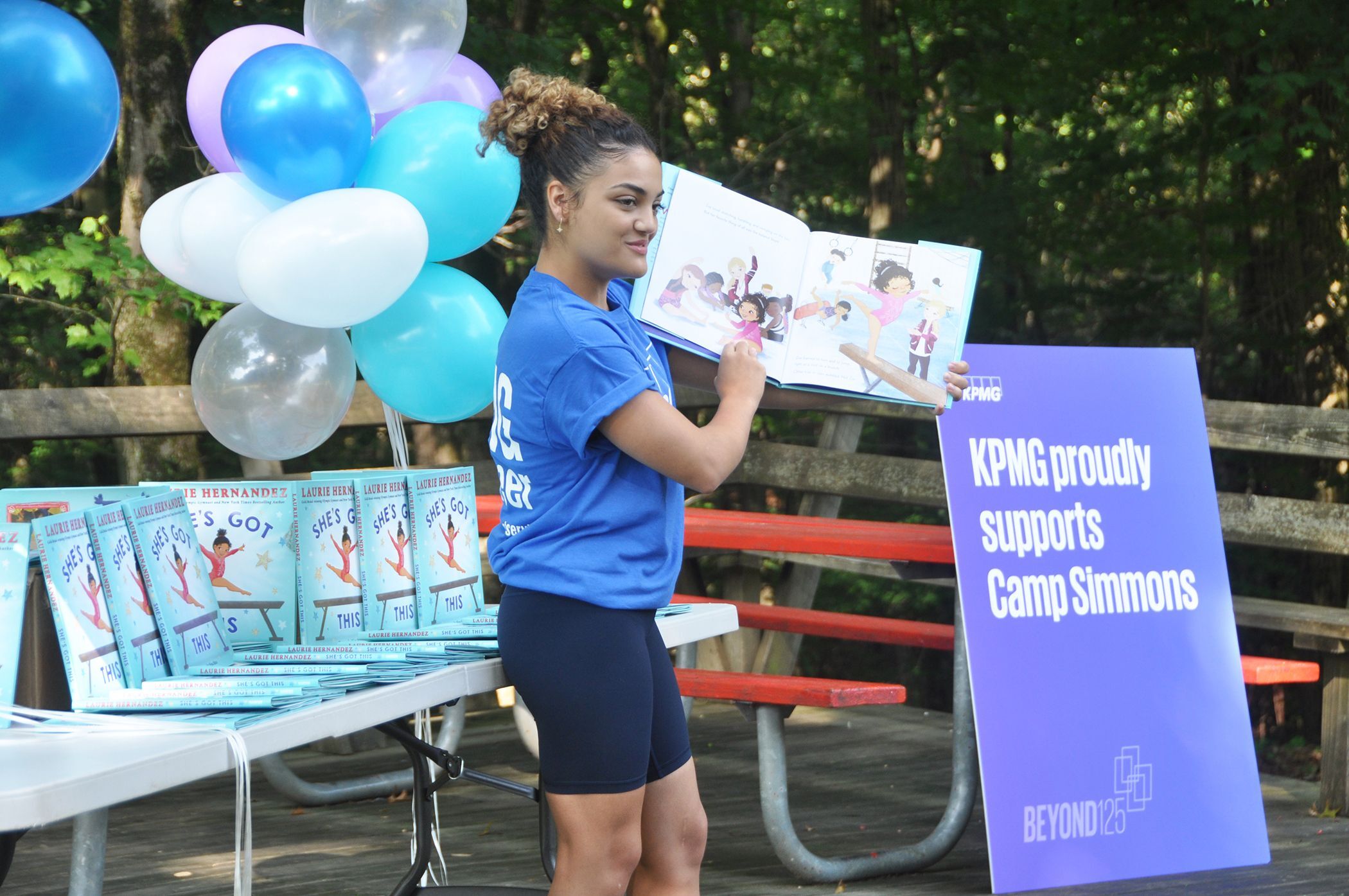 "Who likes to read," asked Olympic medalist Laurie Hernandez when she greeted the youth at Camp Simmons on August 2, 2022. Hands were stretched into the air as the campers responded with, "Harry Potter, chapter books, comics, Diary of a Wimpy Kid, and more Harry Potter."
Laurie is the author of New York Times bestsellers She's Got This, a picture book about chasing your dreams and never giving up, and I Got This: To Gold and Beyond. She is the official celebrity spokesperson for KFFL (KPMG's Family For Literacy) program aligned with First Books (bringing new books to kids that need them the most). Boys & Girls Club of Greenwich was proud to host a group of KPMG volunteers on their Community Impact Day as they celebrate their 125th anniversary.
During her debut year as a senior gymnast, Laurie competed as a member of the U.S. women's gymnastics team dubbed the "Final Five" at the 2016 Summer Olympics. Ultimately, the U.S. won gold in the team event, and in the individual events, Hernandez earned the silver medal on the balance beam.
Outside of gymnastics, Hernandez has appeared on season 23 of Dancing with the Stars in 2016, where she won the competition along with partner Val Chmerkovskiy. Hernandez hosted the first season of American Ninja Warrior Junior as the on-course reporter and starred as Valeria in the Nickelodeon animated miniseries Middle School Moguls. 
After reading excerpts from She's Got This, Laurie spent the morning interacting with the campers playing soccer, basketball and shooting a game a billiards. 
"Our youth are fortunate to meet a host of inspiring role models at the Club. Laurie's message of perseverance, determination, and never giving up even after an injury, is exactly the positive narrative we want our youth to be encouraged by," said Deelia Wadsworth, Education & Volunteer Coordinator.