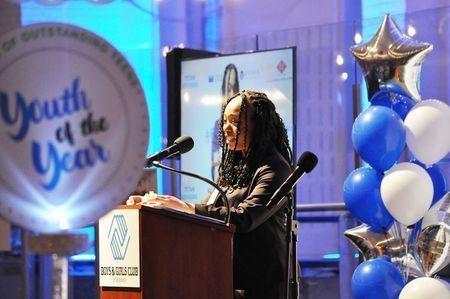 Boys & Girls Club of Greenwich member Paige Pray has been named the 2022 Youth of the Year for her leadership, service, academic excellence, and dedication to live a healthy lifestyle.
"Greenwich's Youth of the Year program was established in 1969 to recognize club members who give back to their club and community," according to Cristina Vittoria, Chief Executive Officer of Boys & Girls Club of Greenwich. "Youth of the Year winners have demonstrated service to club, community and family; academic success; strong moral character; life goals; and poise and public speaking ability. Paige Pray is a shining example of these traits." 
As the Club's 2022 Youth of the Year, Pray, a senior at Greenwich High School has been a member of Boys & Girls Club of Greenwich since age 6. She will serve as an ambassador for all teens in the community and go on to contend for the state Youth of the Year title, and ultimately the national title.
Pray, along with Katie Coyle, Sofia Devito, Isaac Dumeny, Serena Fakhoury, Ava Galley, Raquel Garcia, Jonathan Maldonado, Saskia Phillips, Jesse Sanchez, Starla Tejada, and Ashley Torres-Brown, were the finalists for the 2022 award. Event co-chairs Sally and Larry Lawrence, Sally and Alex Lynch, and Jean and Rick Witmer were among the panelists who chose Pray as the winner.
"Our Youth of the Year process is quite rigorous, and every applicant is truly outstanding," said Sally Lawrence. "Each of you does so well in school, you are engaged in other activities and most importantly you help others here at the Club and elsewhere. You all were impressively poised and confident in your interviews. It was an honor for us to have the opportunity to interview you!"
As Vice President of Boys & Girls Club of Greenwich's service organization Keystone Club, Paige has natural leadership abilities that propel her in making connections with her peers and staff members, alike. In addition to working with younger members as a part-time staff member, she has also participated in numerous Club activities including basketball, lacrosse, LEGO robotics, yoga, and swim lessons.
A National Honors Society student with stellar grades, and recent recipient of the Daughters of the American Revolution Good Citizens award, Paige looks forward to attending Quinnipiac University in the fall where she's enrolled in their 3+3 Law Accelerated Dual-Degree.
Also honored at the event was the 2022 Jr. Youth of the Year, Ryder King. "Ryder is the kind of Club kid we want here," said  Camryn Ferrara, BGCG Athletic Coordinator. "He participates in everything. Everything: Barracuda swim team, finance champions, tutor, homework help, Torch Club, Passport to Manhood, Stem to Stern (rowing with Greenwich Crew), athletics, and rugby."
Addressing the audience, Ryder remarked, "We are a nation that is torn apart by chasms of race, religion, politics and economics. These chasms bring with them anger, discomfort and arguments, and they flow into the media, hang in the air and spill onto the dinner table. The club throws all these preconceptions away."
In addition to naming the Youth of the Year winner and Jr. Youth of the Year winner, Boys & Girls Club of Greenwich also honored Don Palmer as its 2022 Champion of Youth. The Boys & Girls Club of Greenwich's Champion of Youth award is the highest honor a Boys & Girls Club of Greenwich supporter can achieve. The recipient is recognized as making a significant contribution of time and talent to the members and mission of the Club.
Don joined Boys & Girls Club of Greenwich in 1992 as the Aquatics Director and was quickly promoted to positions of greater responsibility and now serves as Vice President of Programs & Youth Development.
When Don's not at his desk writing referral letters for members applying to college, or creating action plans for Camp Simmons, he's coaching kids on winning checkers or chess. The list goes on. If he sees that someone looks like they are having a difficult day, he makes them a leader of an activity and encourages them to do their best.
The community recognizes that Don has been instrumental in helping thousands of children grow and reach their full potential through honesty, hard work and sportsmanship. He is kind, firm and supportive and has a big heart. It is Boys & Girls Club of Greenwich's honor to recognize Don Palmer's unwavering commitment to the youth of Greenwich for the past 30 years. 
Addressing the gathering of 350 people in the Club's field house, Palmer remarked, "My first and only job started August 22, 1992, and I have been here for 30 years, so far. I loved it from the start. From day one I enjoyed being with the members. You can get to know how a child is doing just by listening. Kids will tell you everything if they know you care about them. What you do with that information is how you can really make a difference in that child's life."