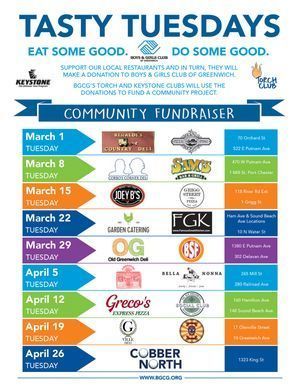 On nine Tuesdays throughout March and April, 17 local restaurants are supporting Boys & Girls Club of Greenwich in an initiative called, "Tasty Tuesdays." Members of the Greenwich community are asked to support one of the local restaurants, who then in turn will make a donation to the Club. Run by BGCG's Keystone and Torch Clubs, the fundraiser will bring in donations that will then be used to support our local youth. Many thanks to the local community and restaurants who are supporting the Club!
Tuesday, March 1: Rinaldi's & Pizza Post
Tuesday, March 8: Corbo's Corner Deli West & Sam's Bar and Grill P.C.N.Y.
Tuesday, March 15: The New Joey B's & Grigg Street Pizza
Tuesday, March 22: Garden Catering & Famous Greek Kitchen
Tuesday, March 29: Old Greenwich Deli & Burgers, Shakes and Fries
Tuesday, April 5: Firehouse Deli & Bella Nonna
Tuesday, April 12: Greco's Express Pizza & Old Greenwich Social Club
Tuesday, April 19: G'vlle Deli & La Taqueria
Tuesday, April 26: Cobber North