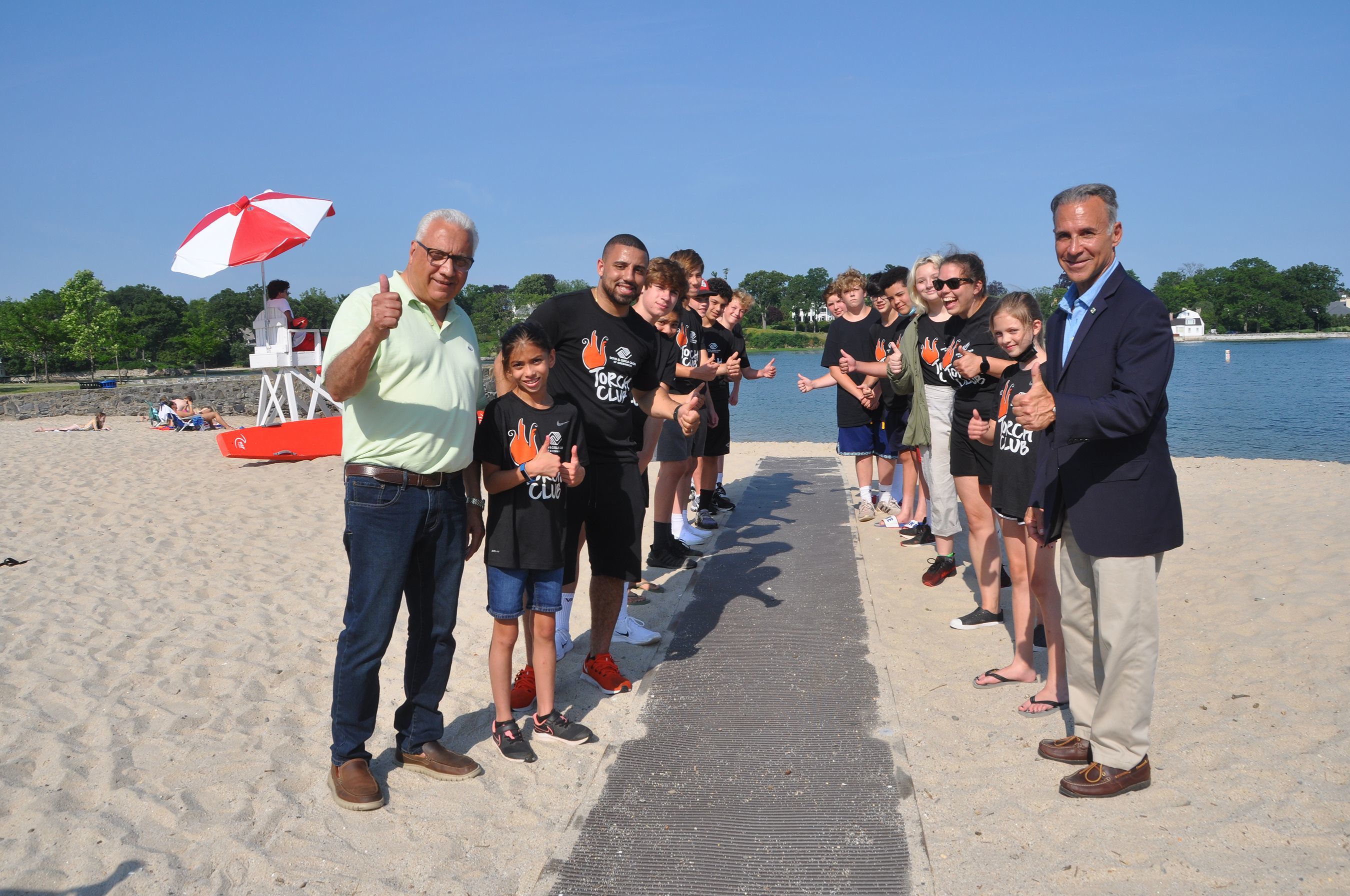 There's a new fixture along the shoreline at Byram Park that is a small, but symbolic and welcoming, gesture to people with mobility issues. A new access and grass mat that run along the grass area, then covers the sand down to the water, was recently donated by Boys & Girls Club of Greenwich's Torch Club. The mats makes it possible for people with limited mobility to more easily access the water.
The mats were one of a number of gifts donated by the Torch Club, which raised funds through a 5-week initiative called "Tasty Tuesdays." The fundraiser highlighted two local restaurants each Tuesday for five weeks. As the restaurant industry was especially impacted by the COVID-19 pandemic, community members were encouraged to patronize the local establishments, which all in turn donated a percentage of their sales to the Torch Club.
"Each year we do a special project to help the community, but we were limited in options because of the pandemic this year," said Jasmine Scott, vice president of Torch Club. "We had the idea to help the local restaurants get more business, knowing we would then share the funds with the community. We did a few different things with the money. Of course we did the mats, and we brought puzzles and big Connect 4 games to senior homes."
Led by Torch Club advisors Camryn Ferrara and Ashley Culver, club members gathered at Byram Park along with Parks & Recreation director Joe Siciliano and First Selectman Fred Camillo to see the newly installed mats.
"I salute the Torch Club and all the town merchants and citizens who chipped in to provide easier access for all our citizens," said Fred Camillo.
"It's a full circle of giving," said Ferrara adding, "the idea for Tasty Tuesdays was that the community supports the restaurants. The restaurants support us. And now we use the proceeds donated to help the community out."
Look for Tasty Tuesdays to return next spring, as Ferrara says he was contacted by a number of restaurants who were interested in participating in future plans. "I think this could be a nice tradition," he said.
Torch Club is a leadership and service club for boys and girls ages 11-13. With weekly meetings, Torch Club members work together to plan and implement activities based on four criteria: service to Club and community, education, health and fitness, and social recreation. Boys & Girls Club of Greenwich's Torch Club won first and second place in Boys & Girls Clubs of America Torch Club National Project in 2020, with its "Lights, Camera, Fashion" fashion show, and its "Salute to Our Troops" project.
In 2019, Camryn Ferrara and Ashley Culver were named Torch Club advisors of the year by Boys & Girls Clubs of America. In addition, the Club also won the 2018/2019 National Seeds of Kindness Project for its "Communities Helping Communities" toiletries drive.