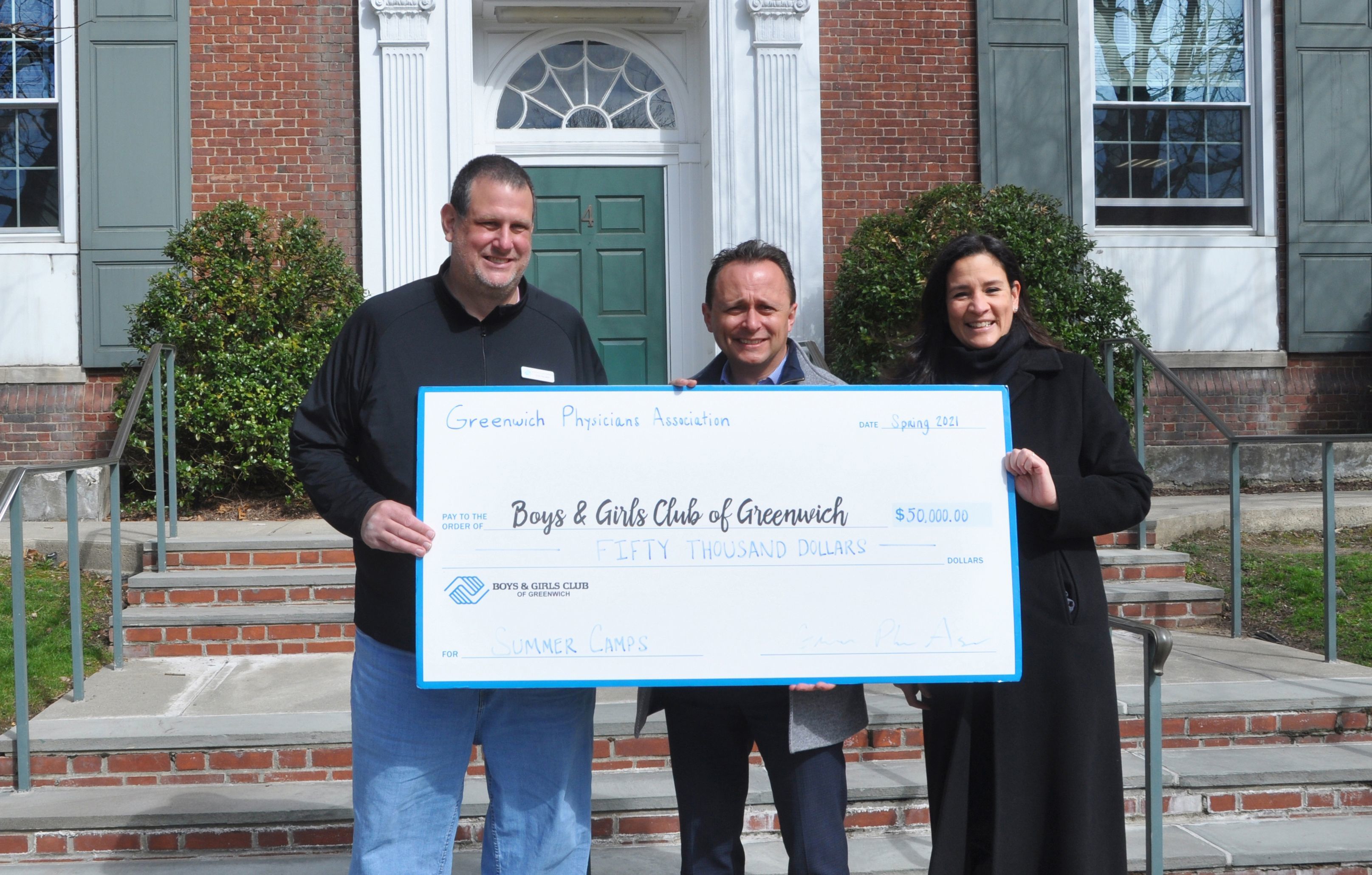 Boys & Girls Club of Greenwich has received a donation of $50,000 from Greenwich Physicians Association, Inc. (GPA) to support the Club's Summer Camp programming. During the summer, Boys & Girls Club of Greenwich offers three Camp opportunities: Camp Simmons located on 77 acres of magnificent wilderness on Lake Avenue for those kids ages 6 - 12 looking for a classic outdoor camp experience; Clubhouse Camp which is in an air-conditioned facility at 4 Horseneck Lane, with access to outdoor space and field trips for ages 6 - 12; and Teen Camp, giving 13 - 15 year-olds access to a range of athletic facilities with time off-site visiting area attractions.
"The Greenwich Physician Association is impressed with Boys & Girls Clubs of Greenwich's outreach to children and the overall well being of the Greenwich community. The organization's initiative to provide children access to programs such as after-school support and summer camp is one I cannot thank you enough for," said Glenn Gandelman, MD, MPH, FACC, President of Greenwich Physicians Association. "The Club's mission is in line with the GPA's – providing for the well-being of the Greenwich community."
During a typical summer, more than 750 children participate in the Club's Camp activities, that range from canoeing, archery, indoor and outdoor sports, STEM activities, swimming and more. Due to state-mandated COVID restrictions, last summer 350 youth enjoyed Camp, with priority enrollment given to children of essential workers.
"We are extremely grateful for this gift from Greenwich Physicians Association. Our goal always is to provide to our more than 1,600 members the positive opportunities without financial barriers," said Cristina Vittoria, CEO of Boys & Girls Club of Greenwich. "This donation will impact our Club members in significant ways this summer, especially when it comes to our Summer Brain Gain offerings."
Summer Brain Gain is comprised of one-week modules with fun, themed activities for elementary school, middle school and high school students that are aligned with common core anchor standards. Through a project-based learning approach, youth engage in a process of learning through discovery, creative expression, group work and a final project or production. As a result, kids develop higher-order thinking skills through the Summer Brain Gain modules while staying on track for the coming school year.
The Greenwich Physicians Association is an independent practice association owned and managed by physicians. The GPA was founded in 1992 and currently includes 106 physician members (44 medical practices). They are a non-stock corporation governed by a Board of Directors comprised of community-based physicians.
To learn more about BGCG's Summer Camps, click here.
Pictured are Don Palmer, VP of Programs and Youth Development, Dr. Glenn Gandelman, and Cristina Vittoria, CEO