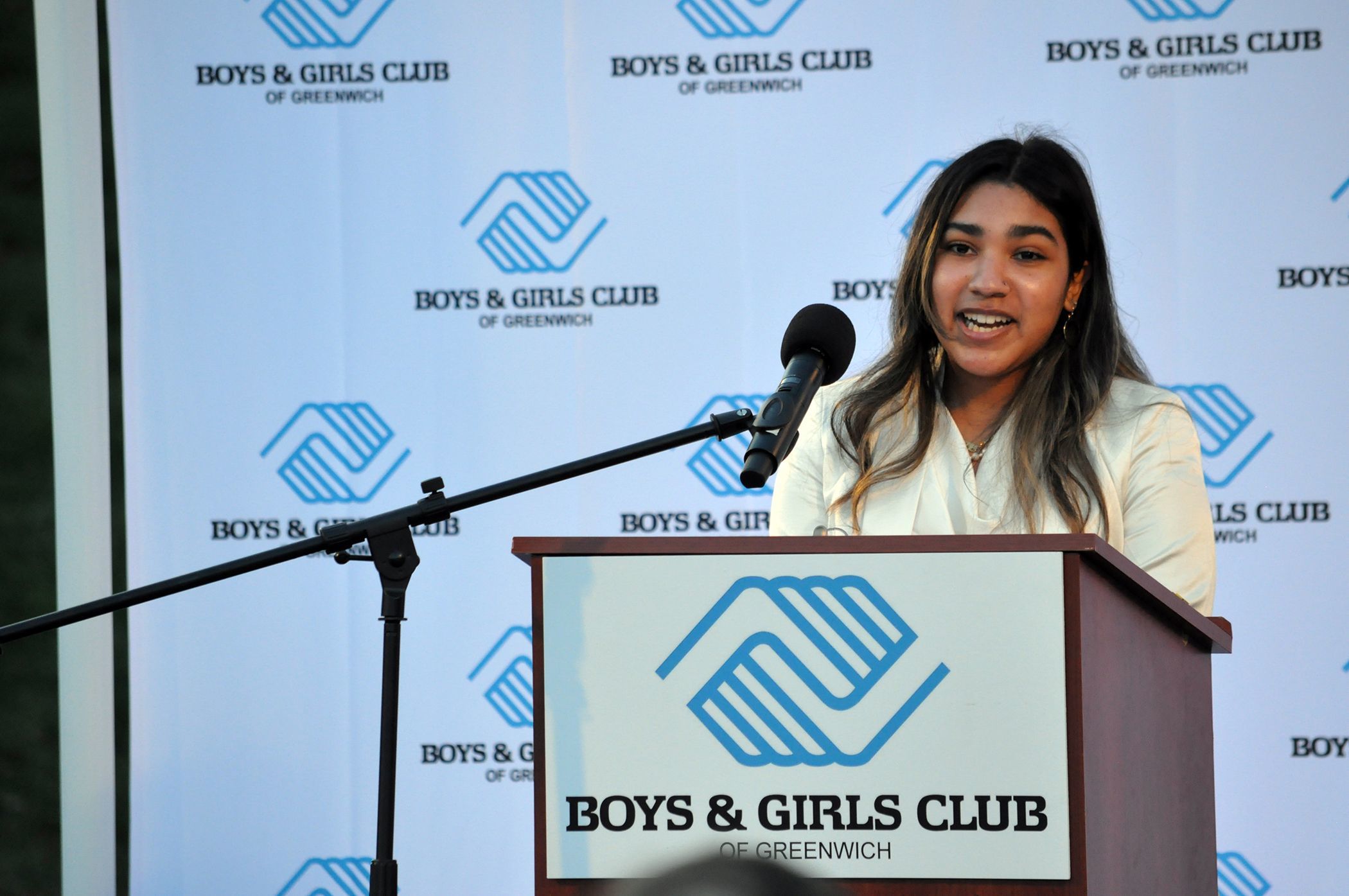 Some of Greenwich's best and brightest were celebrated on Wednesday, April 7 during the Boys & Girls Club of Greenwich's annual Youth of the Year celebration.
Damarys Aceituno, a junior at Greenwich High School, was named the club's 2021 Youth of the Year. Damarys, along with Lauren Herrera (Greenwich High School senior), and Karen Maldonado (Greenwich High School junior) were the finalists for the 2021 award. Event co-chairs Lisa and Bruce Quackenbush, and Icy and Scott Frantz were among the panelists who chose Aceituno as the winner.
"Through the interview process here's what I learned about the finalists- each of them are smart, super smart, and have overcome incredible personal challenges with grace," said Icy Frantz. "They are sensitive, responsible, caring and have displayed remarkable leadership skills. Each one has been positively impacted by their tenure at the Boys & Girls Club."
"Greenwich's Youth of the Year program was established in 1969 to recognize club members who give back to their club and community," according to Cristina Vittoria, Chief Executive Officer of Boys & Girls Club of Greenwich. "Youth of the Year winners have demonstrated service to club, community and family; academic success; strong moral character; life goals; and poise and public speaking ability. Damarys Aceituno is a shining example of these traits." 
"I am grateful for the staff's help and inspiration throughout the years. Being a member of the Club has shaped my character, and made me who I am today," said Aceituno. 
As past President of Boys & Girls Club of Greenwich's service organizations Torch Club and current President of Keystone Club, Damarys has natural leadership abilities that propel her in making connections with her peers and staff members, alike. In addition to working with younger members as a part-time staff member, she has also participated in numerous Club activities including painting, basketball, dance, yoga, and swimming lessons.
When Damarys ran into a difficult family situation, she turned to the Club for support. "The summer going into my Freshman year of high school, my father was taken into ICE custody and was detained for a year-and-a-half before he was deported to Argentina," recalls Damarys. "A few Club staff members noticed I was not focused on any goals and encouraged me to do well in school, get involved in the community, and join Keystone Club. The Club gave me a different perspective on life. Instead of letting everything in my life spin out of control, I took charge of the things I could control."
Now an honors level student with stellar grades in her Junior year, Damarys looks forward to the college admissions process where she's interested in studying environmental science or marine biology.
In addition to naming the Youth of the Year winner, Boys & Girls Club of Greenwich also honored Lisa Stuart as its 2021 Champion of Youth.
Lisa Stuart served on the board of the Boys & Girls Club of Greenwich for 20 years. She co-chaired both the Governance and the Strategic Planning Committee with Nancy Better, and she was Board Chair for four years. Twice, Lisa and her husband Scott hosted the BGCG Fall benefit in their backyard when the Clubhouse was under construction. 
Lisa currently chairs the board of Waterside School, and she serves on the boards of Grassroots Soccer, which fights AIDS in youth in sub-Saharan Africa, and National CASA, which helps foster children. She has been a member of the Greenwich RTM since 2017. Lisa graduated from UC Berkeley and has a Master's Degree in social work and in public administration from Columbia University.
Addressing the gathering of 150 people on the Club's outdoor field, Stuart remarked, "This Club builds citizens. The three young women we honor tonight are examples of the exceptional young adults who emerge from the Club. It's an incredible honor to share the stage with Damarys, Lauren, and Karen, three brilliant, tenacious, and resilient young women. You embody this Club's dreams, and you inspire us all to be our best."
Damarys Aceituno will go on to vie for the Connecticut Youth of the Year title and a $5,000 college scholarship from Boys & Girls Clubs of America.
Many thanks to the corporate sponsors who help the Club prepare the town's young people, through enrichment opportunities and supportive relationships, to be responsible, caring and productive community members.
TITLE SPONSORS
Brescome Barton, Brewer Foundation, RBC Capital Markets, and The Wolverine Foundation
CHAMPION SPONSORS
Anonymous, Cardinal Capital Management LLC, Longitude Capital, and Titan Advisors LLC
FRIENDS
E-J Electric Installation Co., and People's United Advisors
COMMUNITY SUPPORTERS
Griffith E. Harris Insurance Services
EXCLUSIVE MEDIA SPONSOR
Greenwich Magazine