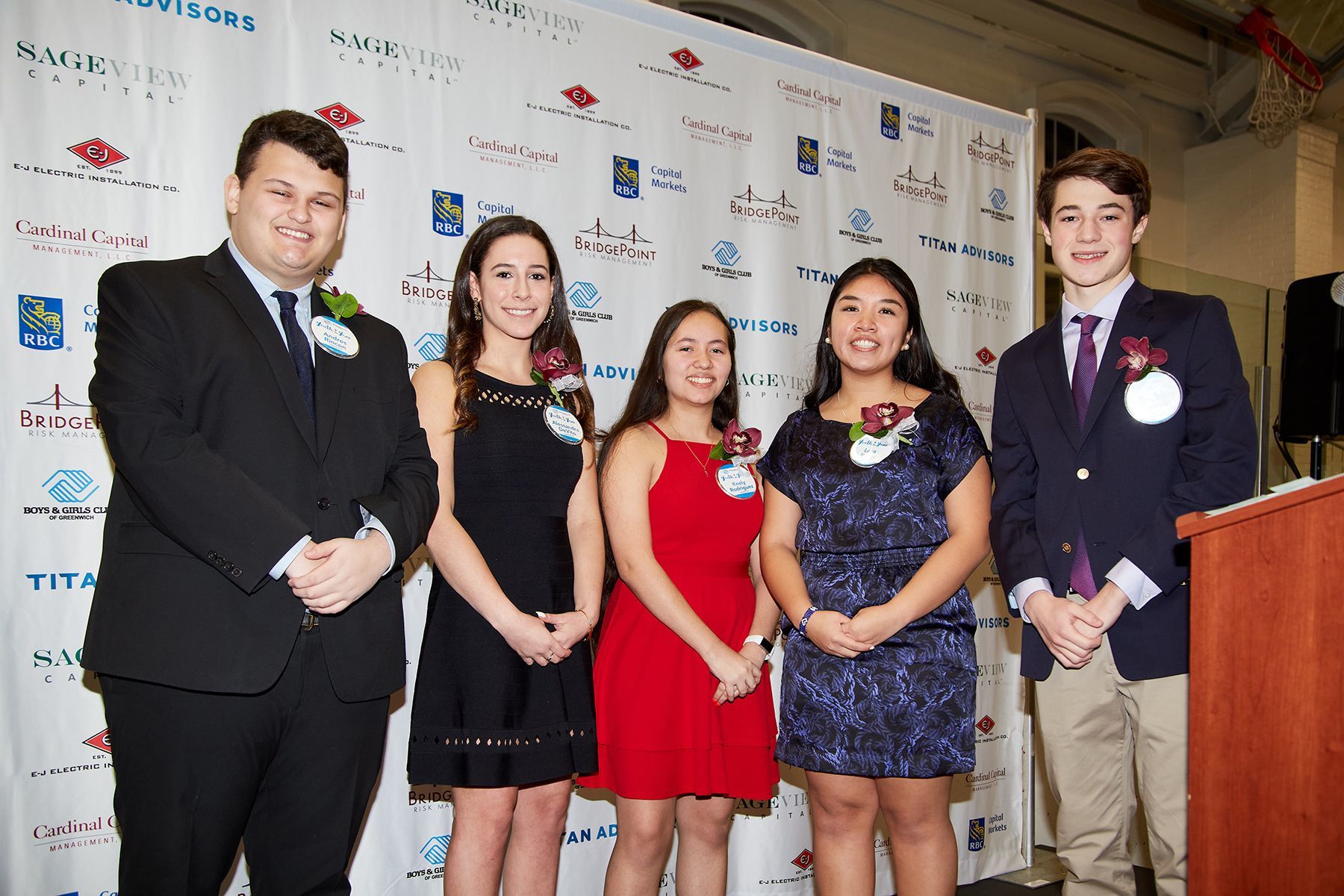 Congratulations Lara for being named the 2020 Youth of the Year!
Some of Greenwich's best and brightest were celebrated on Thursday, February 6, during the Boys and Girls Club of Greenwich's annual Youth of the Year dinner.
Lara Javier, a junior at Greenwich High School, was named the club's 2020 Youth of the Year. Javier, along with Alessandra DeVito (Greenwich High School senior), Max Pisacreta (Greenwich High School senior), Andres Rincon (Westhill High School senior) and Keely Rodriquez (Greenwich High School junior) were the finalists for the 2020 award.
"Greenwich's Youth of the Year program was established in 1969 to recognize club members who give back to their club and community," according to Bobby Walker, Jr., Chief Executive Officer of Boys & Girls Club of Greenwich. "Youth of the Year winners have demonstrated service to club, community and family; academic success; strong moral character; life goals; and poise and public speaking ability. Lara Javier is a shining example of these traits." 
"I've been a member of Boys & Girls Club of Greenwich for as long as I can remember," said Javier. "It started when I turned six years old, and I would take the bus to the Club after school. I was here every day and have attended almost every program that is offered. From a member of the Barracuda swim team, to vice president of Keystone Club, the Club allowed me to grow outside of my shell and gave me a place to rely on. Without the resources of the Club, I don't think I could have achieved all that I have."
In addition to naming the Youth of the Year winner, Boys & Girls Club of Greenwich also honored Susan Bevan as its 2020 Champion of Youth.
Susan Bevan is a philanthropist and non-profit volunteer. A former corporate attorney, she has served on many boards, both locally near her home in Greenwich, CT, as well as internationally. As a board member of Boys & Girls Club of Greenwich, Susan served as Vice President and also co-chair of the capital campaign (2001-2005) that rebuilt the pool and clubhouse and added a hockey rink. 
Addressing the crowd, Bevan remarked, "I was given the opportunity, a gift to me, really, to help create a space to house the activities of town children who are therein provided the resources that enable them to say 'Yes, we can.'  I am just one of many men and women who have spent decades devoting their volunteer and professional time to this Club.  People like David Ogilvy, Jannell Bakrow, Annette Wilson, Bob Kauffman, George Fox, and Lisa Stuart (joined by far too many more to name), plus an extraordinary staff led by Bobby Walker and Don Palmer, are the reason our children are becoming successful adults in this country and from this town.  I thank all of the supporters of the Club – all can feel GREAT pride in their own devotions of time and money to this wonderful organization – helping make a difference, one happy child at a time."
Lara Javier will go on to vie for the Connecticut Youth of the Year title and a $5,000 college scholarship from Boys & Girls Clubs of America.