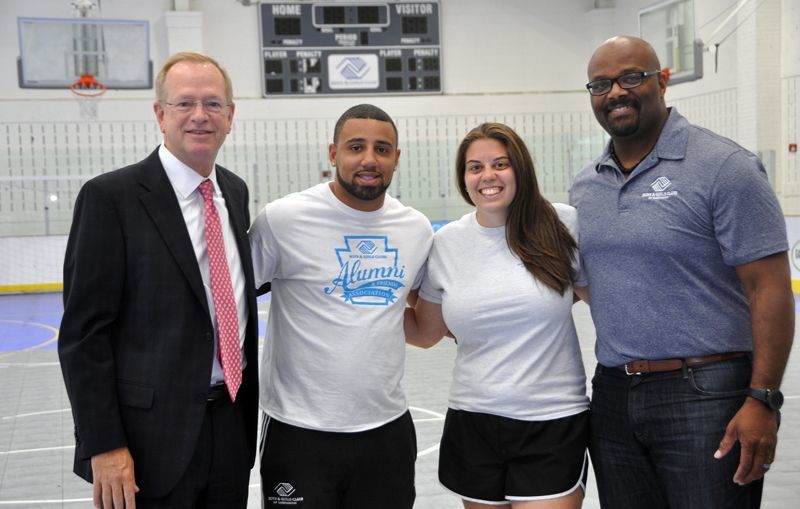 Two Boys & Girls Club of Greenwich counselors have been named the 2018/2019 Torch Bearers of the Year by the Boys & Girls Clubs of America. Camryn Ferrara and Ashley Culver received the honor "in recognition of leadership, dedication and commitment and the critical role they played in the development and growth of Torch Club members." In addition, Boys & Girls Club of Greenwich's Torch Club won the 2018/2019 National Seeds of Kindness Project.
Through a character and leadership program called Torch Club, Boys & Girls Club youth ages 11-13 initiate and plan community service projects and civic engagement activities throughout the school year. Torch Club is a "club within the Club," helping to meet the character-development needs of younger adolescents at a critical stage in their life.
"I cannot begin to say how great these leaders are. They shined brighter above all the other prospects," announced Eve Respess, Director of Youth Development at Boys & Girls Clubs of America. "These advisors strived for the best and received the best. They continually inspire, buoy and encourage young leaders of the Greenwich Torch Club to be greater than great. Thank you for being the best of the best."
"To spend each day helping teens discover their greatness in the best job in the world," said Camryn Ferrara, Junior Torch Club advisor, Athletic Coordinator, and 2010 Boys & Girls Club of Greenwich Youth of the Year. "The Torch Club was instrumental in shaping my character, so now I feel that I'm returning the gift by being a positive influence on a group of exceptional youth."
Echoing her colleague, Ashley Culver, Junior Torch Club advisor, and Aquatics Coordinator said, "It's the moments of sincerity displayed by the teens that keep me excited to come to work every day. Being a role model, showing acceptance, and celebrating the teens' accomplishments is a fulfilling pursuit."
Leadership is the keystone of the Torch Club program. Adult guidance and direction are critical for Torch Club members to develop the knowledge and skills they need to become citizens and leaders of good character. "This program begins and ends with the advisor," said Respess.
"They show us what good leaders are and what we should strive for in the future," said Greenwich Torch Club President, Karylee Serdena. "Cam and Ashley continually ask us to be our best. They inspire, encourage and motivate us to be greater than great."
In addition to being named national advisors of the year, Ashley Culver and Camryn Ferrara entered their "Communities Helping Communities" toiletries drive to be considered by BGCA for the national "Seeds of Kindness – It Starts With You" competition. Greenwich Torch Club Junior Cardinals members reached out to the community and collected an estimated 10,000 toiletry items that were packaged into 1,500 bags that were distributed to several local agencies who serve those in need. The 1,500 toiletry bags were donated to the following non-profit agencies: Neighbor to Neighbor and Kids in Crisis in Greenwich, CT; Carver Center in Port Chester, NY; Inspirica and Pacific House in Stamford, CT; and Caroline House, Bridge Academy and PT Partners in Bridgeport, CT.
"Ashley and Camryn are masters at providing the guidance that our members need to develop into productive, caring, responsible citizens who are capable of meeting the challenges of our changing world," said Bobby Walker, Jr., Chief Executive Officer of Boys & Girls Club of Greenwich. "These outstanding advisors go above and beyond, ensuring that every Torch Club member experiences an opportunity to do something of value for others through service. They help members experience a place where they fit and are valued as individuals."
A Torch Club is a powerful vehicle through which young people develop and strengthen their 21st-century leadership skills, giving them a firm foundation of good character and integrity. Torch Club members elect officers and work together to implement projects in the four focus areas: service to Club and community; education; health and fitness; and social recreation.
The Boys & Girls Clubs of America Torch Bearer award is sponsored by Old Navy, which is giving the Greenwich Junior Cardinals Torch Club a $2,500 award for the outstanding leadership and dedication of advisors Ashley Culver and Camryn Ferrara.
Boys & Girls Clubs of America awarded $2,500 to Greenwich Torch Club for the selfless acts-of-kindness displayed by its youth for the Seeds of Kindness competition.