Youth of the Year 2021
Wednesday, April 7 at 6:30 pm
Congratulations Damarys Aceituno for being named BGCG's 2021 Youth of the Year! Click here to read to story!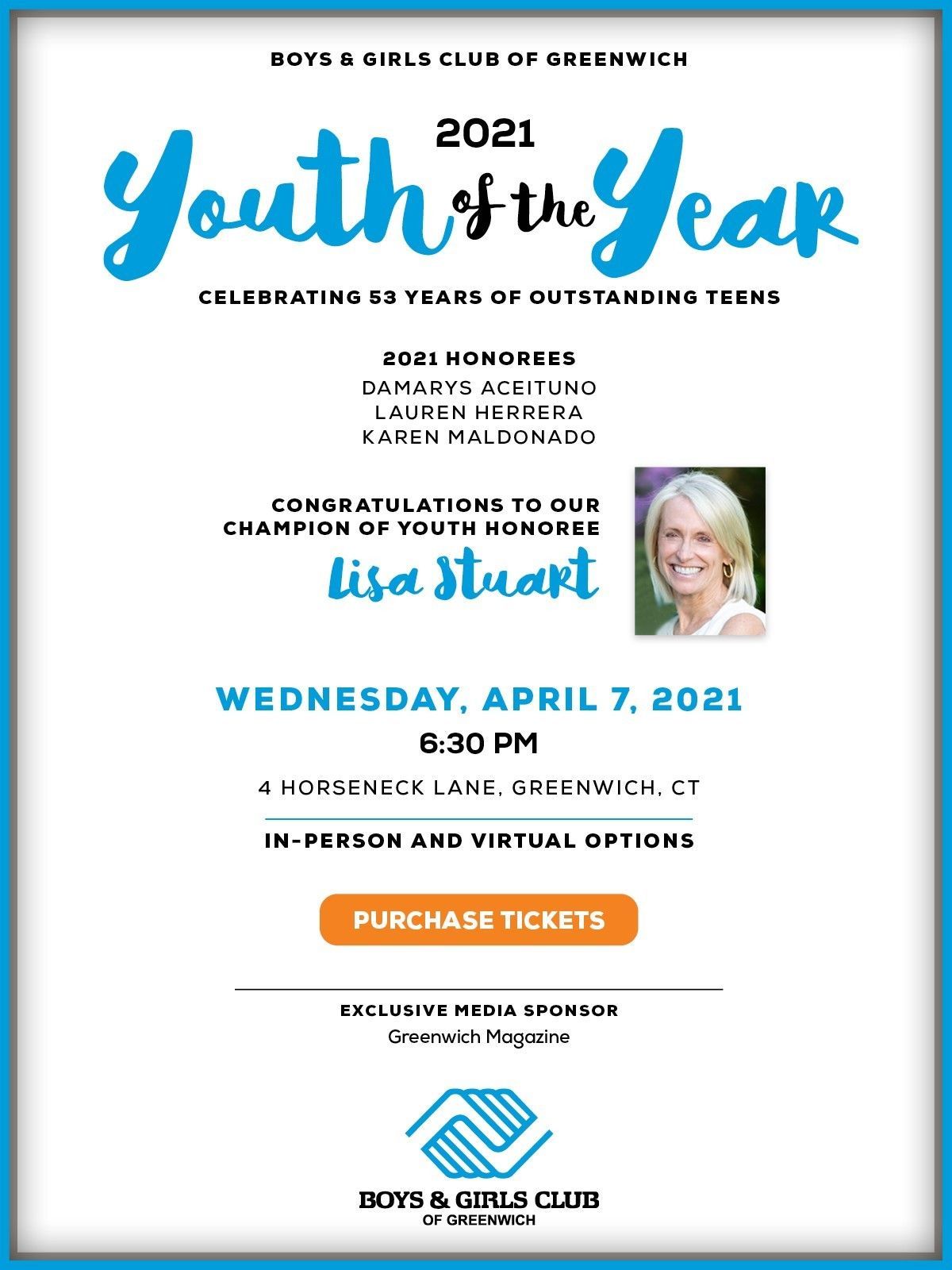 ABOUT THIS YEAR'S CELEBRATION:
Wednesday, Apr 7, 2021 at 6:30 PM
In accordance with CDC guidelines and state restrictions, we will have limited in-person capacity for this event, which will be held outside on the turf field adjacent to our main clubhouse. Seating will be grouped according to reservation with six feet between groupings. Individually boxed snacks provided by Food Design will be served along with hot and cold beverages. We will live stream to Facebook and YouTube for at-home viewing as well. Food and wine options are also available for at-home viewing.  We encourage our supporters to celebrate in any way they feel comfortable.  
ABOUT YOUTH OF THE YEAR:
The Boys & Girls Clubs of America Youth of the Year Program is an annual initiative to foster young people's personal growth and leadership qualities, and the highest honor a Boys & Girls Club member can achieve. Greenwich's Youth of the Year program was established in 1969 to recognize club members who give back to their club and community. Recipients of the honor have demonstrated service to club, community, and family; academic success; strong moral character; life goals; and poise and public speaking ability.  
The Youth of the Year honorees are shining examples and living proof that great futures start at the Boys & Girls Club of Greenwich. Winners go on to vie for the Connecticut Youth of the Year title and then participate in a regional and national competition. Each year a celebratory dinner is held where guests gather to witness the announcement of the winner.